Aigner | Spring Summer 2019
Aigner | Fall Winter 2016-2017
Bikkembergs | Pitti Uomo 2016
LeitMotiv |Winter Fall 2016
Bikkembergs | Winter Fall 2016
Canali| Spring Summer 2016
Leit Motiv| Fall Winter 2017 2018
AIgner| Spring Summer 2016
Leit Motiv| Spring Summer  2015 2016
Aigner| Fall Winter  2015
Soundsculpture at Remake Festival Berlin 2013
SURFACE WAVES
MARCO MADIA & MARCO BAROTTI
Opening:
11.Sep.2013 22:00 @Platoon Kunsthalle Berlin
Schönhauser Allee 9, 10119
The piece has been built on location using only materials found in the surroundings. The soundscape is an integral part of the piece itself and was created on location throughout the construction process. It has not been heard on conventional speakers during the compositional process.
The piece itself develops through use of, and interaction with, the sound. Different frequencies cause the base plate to vibrate thus generating a movement. Initially the wood pieces are arranged in a circular shape. The vibrations in the different phases of the composition cause the wood pieces to form patterns and fall off the sides of the base plate. They land on two objects with opposed acoustical properties generating a perpetually evolving stereophony where new acoustic soundscapes comes to life.
Sound Installation at Fluxia Gallery 
Opening June 27th 2013
This is a recording of the installation "Octopus with potatoes" made at Fluxia gallery (Milano, IT).
The installation consists of four amplified pots, functioning as loudspeakers, and a rhythmical audio composition created specifically for these objects and tailored to emphasize their inherit acoustic properties.
Duet For Monkeys Fuori Biennale 2013 
27.05.2013 // 14.06.2013
 Opening // Monday 27.05.2013, 6.30 PM
* DNA * Campo S.Zandegolà, Santa Croce 1692, 30135 Venezia
Lupo Borgonovo feat. Marco Madia and Mercedes Casali // DUET FOR MONKEYS + a story by Michele D'Aurizio
Sound installation for DNA Project
GIARDINO SONORO Sound Interactive Installation
GIARDINO SONORO Sound Interactive Installation
Biennale di Venezia 2012
The Giardino Sonoro installation is a dynamic sound space, conceived as a constantly evolving project over time and space. For the Venice Music Biennale 2012 the installation consists of a physical component (Architettura Sonora's sound modules and the steel ring, designed by a team led by Salottobuono) and an immaterial component, Architettura Sonora's ASG software (Automatic Soundscape Generation), developed by Simone Conforti and Lorenzo Brusci.
Seven musical compositions, specifically commissioned by the Music Biennale 2012 for this installation, are fully reproduced, but interactively spatialized and continuously recomposed, through a continuous interpretation of the gardens atmospheric conditions, i.e. the visitors' interaction with the ring in real time. To accomplish this all the seven musical compositions were rearranged, reinterpreted and reprocessed by Marco Madia to allow for the real time modifications of the spatial presence of the meta-compositions.
Visitors are invited to explore the garden and interact with the ring.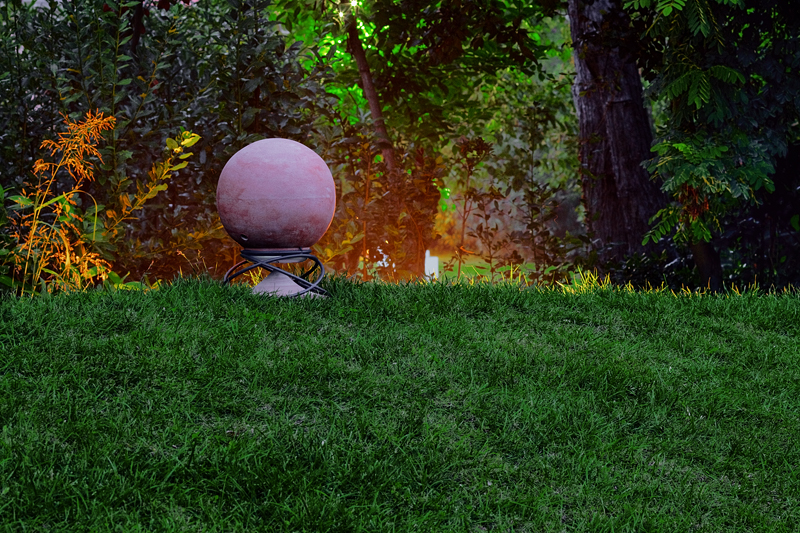 ARCHITETTURA SONORA – GIARDINO SONORO -SOUND INTERACTIVE INSTALLATION – BIENNALE MUSICA – 6/13 OTTOBRE 2012 – GIARDINO DELLE VERGINI – VENEZIA – PH: ANDREASARTI/CAST1466
PH: ANDREASARTI/CAST1466
Multiplicities – Zaha Hadid Design
Project, Milan, Italy 2013
Fonderia Napoleonica

9-14 April 2013

Zaha Hadid's living forms at theFonderia Napoleonica have inspired Architettura Sonora to design a site specific sound space, conceived and dedicated to the presence of the Hadid's new seating collections and to their peculiar attitude to inhabit, mediate and transfigure any human habitat into an pure aesthetic and multi-perspective experience.
A.S.' goal has been to translate their presence into a "dedicated soundscape", structurally and sonically: an immersive sound space design, characterized by the combination of vertical and omnidirectional electroacoustic diffusions.
The sonic elements were chosen from the A.S. collection to perfectly fit the installation, being materially coherent and almost fading into the existing structure in order to enhance the architectural space and free its vivid human and formal relational power.
Framing the "time of experience"deeply inside the spatial design, thanks to the full integration of a wide definition of music and a highly free and multi-functional architectural action.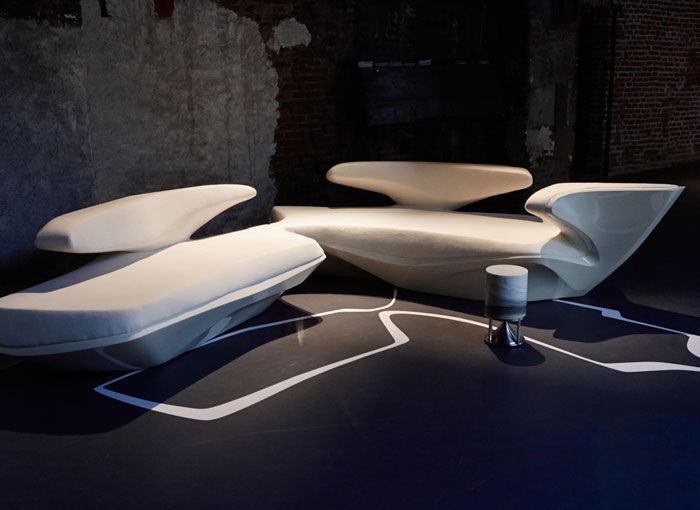 Knitted Microcosm in Pink
Palazzo delle Esposizioni, Roma
The American artist Magda Sayeg, founder of Knitta Please, began by taking knitting out of the home and into the streets. This new approach to knitting questions the assumptions of a traditional craft while adding a previously unused material to the world of street art. By inserting handmade art in a landscape of concrete and steel, she adds a human quality that otherwise rarely exists. Magda transformed the space "Fontana" within the Palazzo delle Esposizioni into a luminous microcosm: Knitted Microcosm in Pink. Visitors are invited to get lost among the luminescent tubes covered with pink knitting and then find their way through the wool sound escorting them.
A 4.0 surround sound installation Curated by A.S. and Lorenzo Brusci, with a sound-scape by Marco Madia and Lorenzo Brusci. Starting from a recording of the sound of knitting that through time develops to a rhythm and becomes only a reminiscent of the original sound and then evolves into a sound-scape. This alternation of sound and artificial light turns the wool into a tale, generating an ever-changing pattern.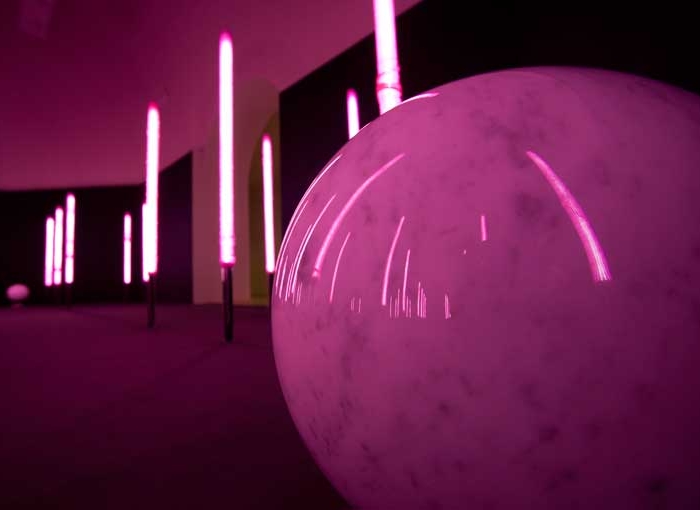 SOUND_SPACE Milan
Milan, ITA During the Salone del Mobile 2012, Architettura Sonora was pleased to be invited by the Poltrona Frau Group, international leader in the high-end furniture sector, to participate to the Milano Design Village (MDV2012) in the Arnaldo Pomodoro Foundation, an impressive venue of great architectural impact.
Within such an extraordinary space, over 2,500 square meters of exhibition space on various levels, Architettura Sonora was able to create different sound spaces, according to the new collections of the group's brands (Poltrona Frau, Cassina, Cappellini and Nemo Cassina Lighting), showcasing the A.S. approach to sound space, either through our collection modules or through integrated systems specifically designed by our contract division. For this 12 Customized sound-scapes for individual rooms (Cassina Design), 1 Sound-scape for the News Area (Cappellini Design) and 1 Sound-scape for the Poltrona Frau Museum Area (Poltrona Frau) were created by Marco Madia.
A.S. has been chosen to conceive the sound design and installation for the exhibition "Architecture for Sensitive Lives", which will be displayed during the official inauguration of MOCAK (Museum of Contemporary Art) in Kraków, Poland.

The exhibition presents the Mocak project by Italian architect Claudio Nardi; erected in the old Schindler's factory area, the new museum provides 10.000 mq of usable exhibition space. The exhibition, developed in six thematic groups, offers an extensive overview on Nardi's architectural visions carried out in projects all over the world at a various range of scales.

A.S. sonic modules perfectly fitted the contemporary design of the new museum, providing for each thematic area a customized soundscape, designed by Lorenzo Brusci andMarco Madia from A.S. Sound Design team.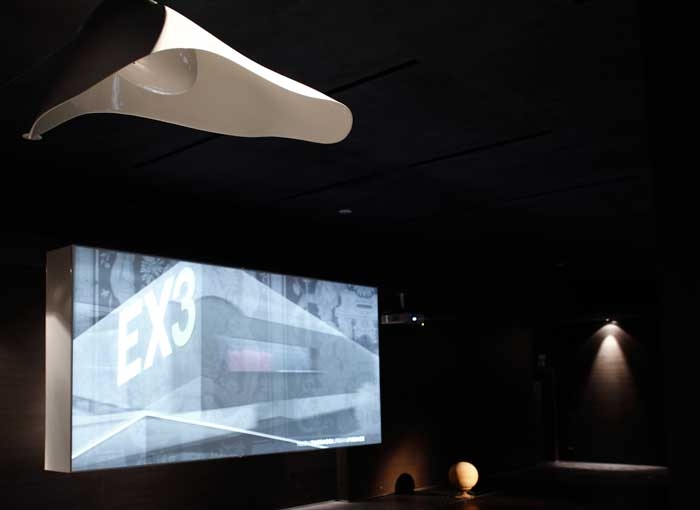 Villa Borbone
Viareggio (Lu), Italy
The Villa Borbone monumental complex is one of the most fascinating historical places in the city of Viareggio; the idea for the Villa arose with Maria Luisa di Borbone, Duchess of Lucca starting from 1818 when she commissioned the Government architect Lorenzo Nottolini to develop the project of a palace.
Nowadays the complex has been restored and converted into a multipurpose complex by the City of Viareggio: the elegant architecture of the palace open up to the green surrounding, a luxuriant park of 38,000 square meters, in a charming atmosphere that is perpetuated in the inner rooms.
A pleasant and calm oasis just a short walk from the town of Viareggio, enriched and implemented by a sophisticated Sonic Garden developed by Architettura Sonora with customized sound-scapes by Marco Madia, takes the visitor through an multi-sensorial experience of the historical garden; the sound modules create a system that redesigns an immersive landscape through a clever sound diffusion that, in the materials and forms, pursues the mimesis and integration with the graceful surrounding nature.
Gente flagship store
Design by Studio Baciocchi
Rome, Italy
A.S. has been recently involved in the sound design for the new concept store "Gente Roma" in via del Babuino in Rome, designed by Studio Baciocchi. Taking advantage of its fast prototyping technologies, allowing to both personalize the shape of a sound module and to perfectly fit in the specific architectural and structural requirements, A.S. has created specific customized sound modules, so to satisfy the peculiar characteristic of this place and to create an invisible and highly efficient sound solution. A.S. sound modules were embedded into the furniture, giving life to a completely involving but non-invasive sound effect. The sound-scapes were developed by Marco Madia and ranged from a source material based on movie soundtracks and quotes processed with reverb letting them fade into one another creating an atmosphere with an old cinematic taste, to a sound-scape based on female voices processed to generate an air of female intimacy and for the summer collection sounds of nature were mixed with bright musical tones to give a feeling of light and warmth.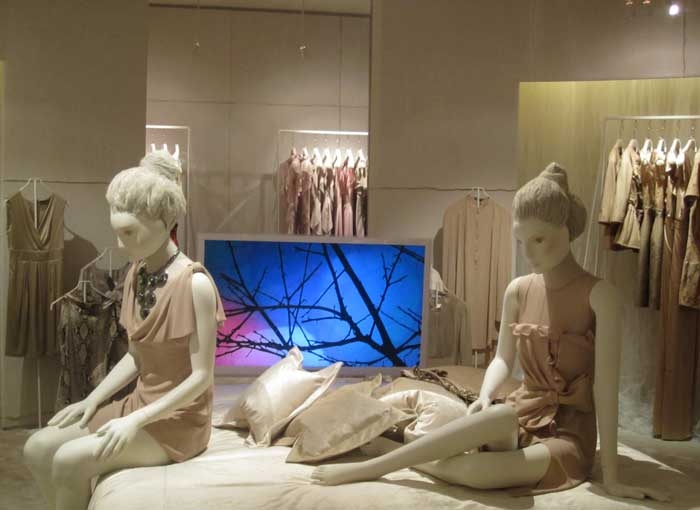 Air4Ear – Music in the air

Design: Elica Design Center
Architectural Sound Modules by Architettura Sonora/Applied Acoustics
Environmental Sound Design by Lorenzo Brusci with Marco Madia & Stefano Bonetti / As Sound Design TeamElica design amplifies sensorial perception through the sound experience of A.S., the brand of the new design division of B&C Speakers, world leader in the production of professional audio components.
This partnership between world leaders in air and sound has produced the multifunctional object Air4Ear, an audio-hood for the kitchen which integrates air filtration, light and sound.
Air4Ear increases the quality of environmental design and introduces a new type of experience: audio immersion, a condition of extremely natural sensorial impression that is able to induce an intense and alert awareness of your own perceptions.
Air4Ear technology creates radial audio diffusion throughout the environment, a natural from of hearing involving sensations similar to the audio perception of a stream or the rain.
The typical "audio identity" of the cooker hood is therefore completely transformed as amazing sonic landscapes – composed especially for the occasion by Lorenzo Brusci of A.S. Sound Design team – replace the traditional sound of airflow.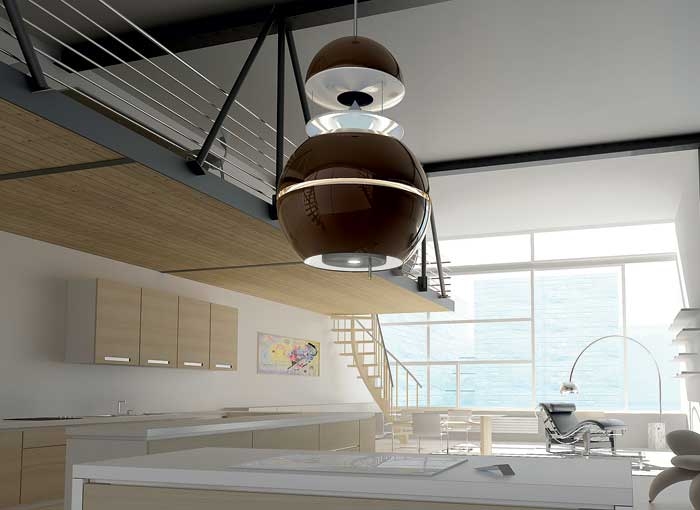 Green Pattern, an urban garden
Milan, Italy
Designed by VerdeArchitettura
Superstudio 13, Tortona district, Milan

The garden has always been conceived as the representation of nature being an essential element of life. Water, trees, wood and stone represent and synthetize the environment is a simple and immediate way. The project of thisurban garden, carried out byVerdeArchitettura, through the combination of different natural materials intends to recreate a mental landscape that can take place everywhere, recovering that part of our sensibility, sometimes forgotten, for the simple and small everyday things. A.S. sound modules contributed to add to this mental landscape such an essential element like natural sounds and music, furthermore strengthening the concept of the project.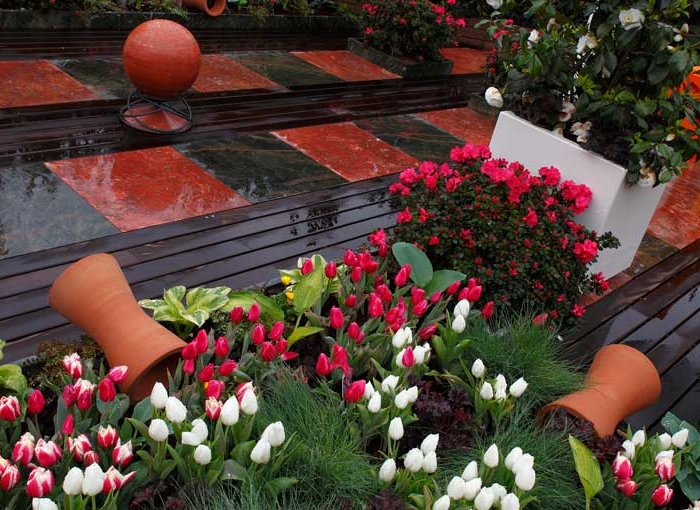 Designed by Meneghello&Paolelli Associati
Superstudio 13, Tortona district, Milan

The project "Total White", carried out by Sandro Meneghello and Marco Paolelli within the "Living in Wellness" area of the FuoriSalone, describes a multifunctional environment, and hybrid, and in-between zone amid bathroom and living room where space is clearly delimited by different levels into public and private. More zones are combined in one big space where the single sceneries are defines by a change of level. Differences in level, voids and masses replaced walls and partitions. The different soundscapes generated byA.S. directional sonic modulescontributed to create "sound-zones" emphasizing the different realms within the whole space.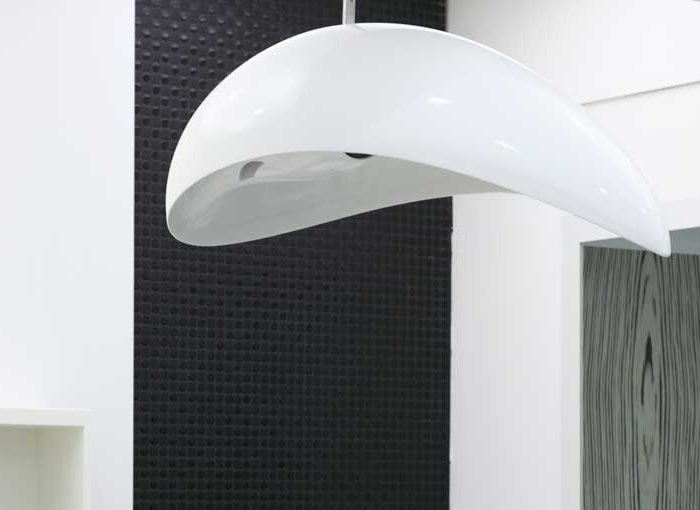 One Trip Hotel Lounge
Milan, Italy
Designed by Studio Svetti Tortona District, Milan, Italy

The eclectic warmth of the lounge area, where a sense of wellness and calmness finds color consistency in the green parts characterizing the space, is furthermore enhanced by the addition of an immersive sonic layer conceived by Lorenzo Brusci and Marco Madia. The contemporary dominant urban landscape somehow projects the space into a different dimension, like living in the future or being immersed in the landscape at the same time. The A.S. sound modules play this sensory installation up.